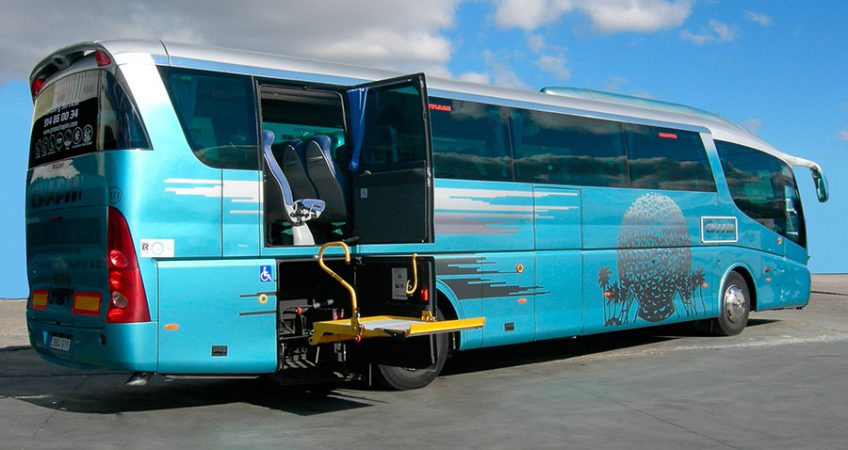 If you need adapted buses, with accessibility for all, you can choose this option.
Security
Security belts on every seat.
ABS, ASR, ESP.
Electric auxiliary brake or retarder.
R.D. 443/2001, on Lt. School and child transportation.
Anti-roll hoops.
Emergency exits in doors and windows.
Anti-slippery floor.
Retaining system for wheelchairs that supports the tensile, torsion and flexion efforts to which they can be exposed, as well as the movements of transfering and rotation.
This system allows the transport of the chair and its users are facing the front of the vehicle.
Two anchor points for each wheelchair.
Lifting platforms that only work when the vehicle is completely stopped.
Loading capacity of the platform exceeding 300 kg.
Platforms equipped with safety step device.
Manual operation safety control.
Vehicle door with automatic step that reduces the distance between the first step of the vehicle and the ground.
Sensitivity valves in the side doors, which in the case of encountering an obstacle when they are closing, would retract automatically.
Lighting system both exterior and exterior.
Comfort
CD and DVD.
Temperature control.
High quality reclining seats.
Preheater.
Fridge.
Individual reading light.
Luminous sign front with customer's name.
Double tinted windows Climalit.
Comfort Options
Hostess or Monitor Service.
Reclining leather seats.
Game or work tables.
WIFI.