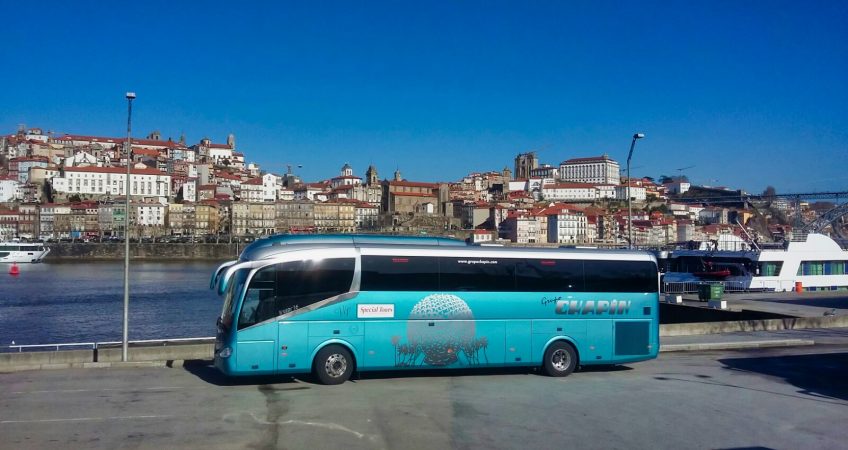 Travelling to Porto with Chapin´s Bus
We travelled to Porto with Chapín´s bus. Porto is the second largest city in Portugal, after the capital Lisbon. It is located in the north of the country.
The municipality of Porto has 15 "freguesias" or neighbourhoods. To the north it borders Matoshinhos and Maia, to the east with Gondomar, to the south with the river Douro and Vila Nova de Gaia, and to the west with the Atlantic Ocean.
What can we see in Porto?
The Sé Cathedral: built in the highest part of the city, it is the most important religious monument in Porto.
The Church and the "Clérigos" Tower are one of the most emblematic monuments of the city. From the tower you have the best views of Porto.
Visiting wineries is essential if you are going to visit Porto.
Electric Car Museum. the Tram Museum shows photographs, original uniforms, restored machines and trams from different eras.
Bolhao Market: active since 1914, it is one of the places where you can best appreciate the essence of Porto.
Ribeira: located on the banks of the river Duero, the Ribeira is one of the most important neighbourhood when visiting the historic centre of Porto.
San Bento station: built in the 9th century on the remains of the convent of San Bento del Ave María.
The Stock Exchange market is one of the most beautiful building in Porto.
Lello and Irmao bookstore: qualified as the most beautiful bookstore in Europe, it is an essential stop for any traveller.
Casa de la Música is a concert hall that began its construction in 1999 to include it in the Porto 2001 project: European Capital of Culture.
Do you want to travel to Spain and across Europe with us?
Check our tourist transport service. For Chapín Group the most important thing is security https://grupochapin.com/en/special/buses-rental-for-touristics-purposes/ 
More information about Porto at https://en.wikipedia.org/wiki/Porto